BEST STEEL CABLE DRUM EXPORTER
Posted by Admin on March, 16, 2021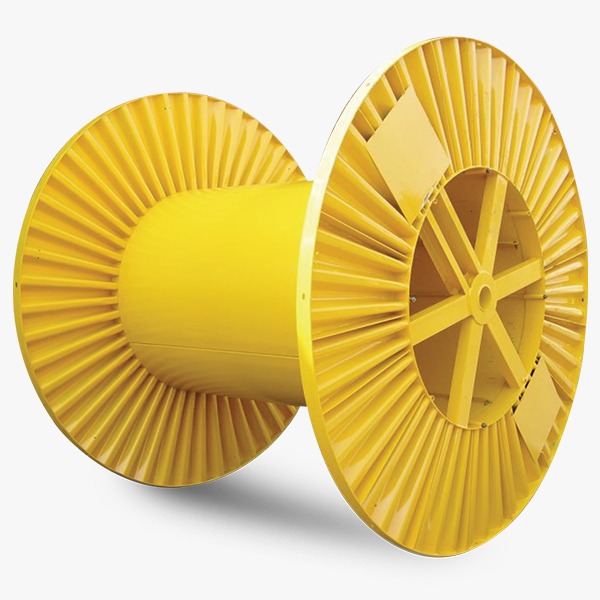 Steel Cable is an industrial product used to lift heavy items in cranes and elevators. They are also useful for transmitting force in mechanisms. These steel wires are ready products and are tensile and strong. To make room for these steel wires cable drums are used. These steel cable drums come in various shapes and sizes. It solely depends according to the length of the steel cable or the steel wire.

General Properties
These Steel cable drums are primarily made up of mild steel and are huge in both shape and sizes. These cable drums can bear quite a heavy amount of load. They can carry almost 15 tonnes to 50 tonnes in weight.
The size of these Cable Drums ranges from 800 mm to nearly 4,000mm.
They come in various colors and have the unique rim shaped structure which enables less transportation cost. It is a self transportable item.

Types of Cable Drums
Cable drums come in various shapes sizes and different cable drums have different specialized abilities. The various kinds of Cable Drums include:
1.Mild Steel Process Cable Drum- Made up of Mild Steel these products have a loading strength of up to 50 tonnes. And their size varies from 2,000 to 4,000mm. these steel drums are ideal for drilling purposes and also to support the heavyweight of Steel wires.
2. Steel Process Cable Drum –these cables are also made up of Mild steel and they can carry a load of up to 15 tonnes. These are useful and best suited to bear the heavy load of the steel wires and are practically used for packing the wires.
3. Mild Steel Cable Drum- these are made up of mild steel and can bear a load of up to 15 tonnes. They are great for cable and wire rope packing.
4. Steel Cable Drum-they are made up of mild steel and are of size 800 to 1000mm. they are used for packing steel wires.

These Cable drums are a few of the types of cable drums that are available in the market at this point. They are reliable and are scientifically proved and tested to be the best process Cable Drum that is easy to transport instead of the heavy load.

Services
Apex engineering works to put in a lot of effort to test a product before selling it to the clients. They continuously check the issues concerned with the products and after multiple test-drives bring it to the market in front of the clients. The team of Engineers works hard to ensure that the product not only is the best but also looks elegant and is deemed to have other advantages and edges that can make it different from other similar products of different brands.
Apex Engineering is now the best and one of the most successful exporter of steel cable in Jaipur and other parts of Rajasthan.
Engineers are now focusing to improve on the designs and the color patterns as well so that other than making it self-transportable it can also have certain other advantages like lightweight, more endurance, and long-lasting.
This entry was posted on March, 16, 2021 at 10 : 33 am and is filed under Steel Process Drum. You can follow any responses to this entry through the RSS 2.0 feed. You can leave a response from your own site.